W7RN has implementing an Elecraft-based remote control system. A dedicated K3, KPA-500 and KAT-500 are operational on 160, 80, 40, 30, 20, 17, 15, 12, 10 and 6 meters. The remote has access to the full complement of antennas and rotators at the station through a Team Viewer Remote Desktop.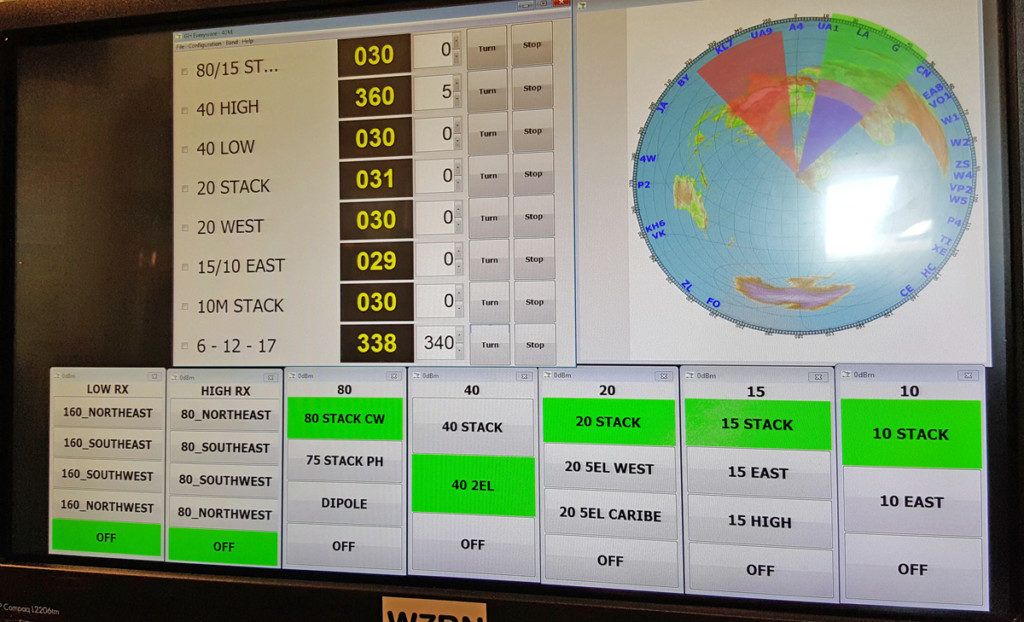 A typical Remote Station will use a K3-0, K3 Mini or a K3 in Terminal mode. A nominal station would have a PC and two screens available. One for antenna control and one for logging.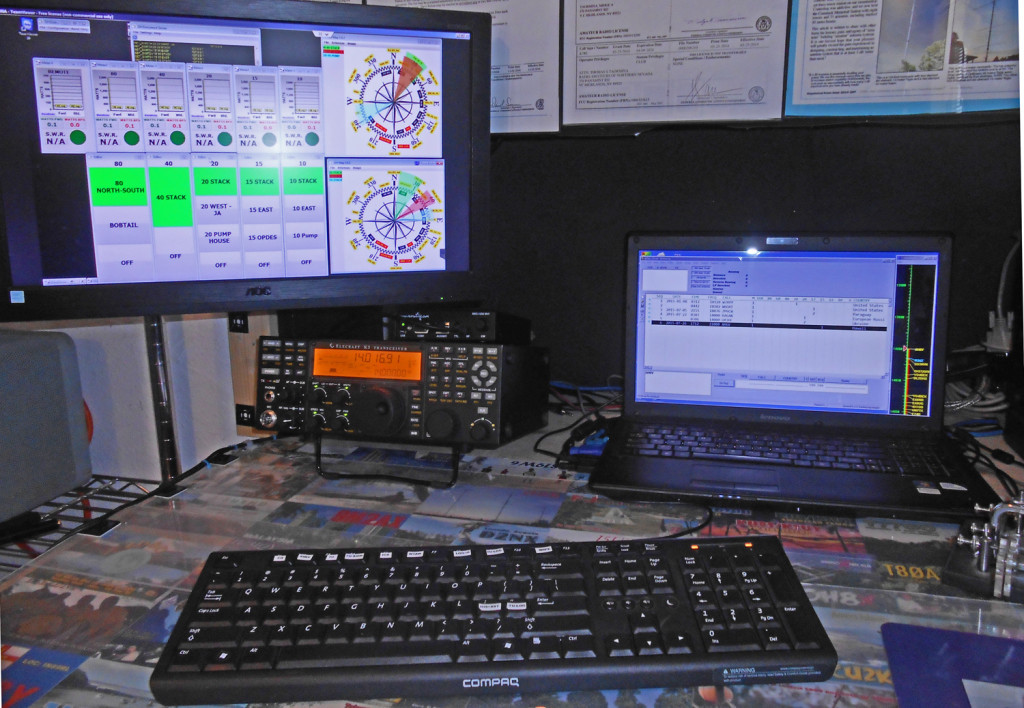 This is the W7RN Remote Host.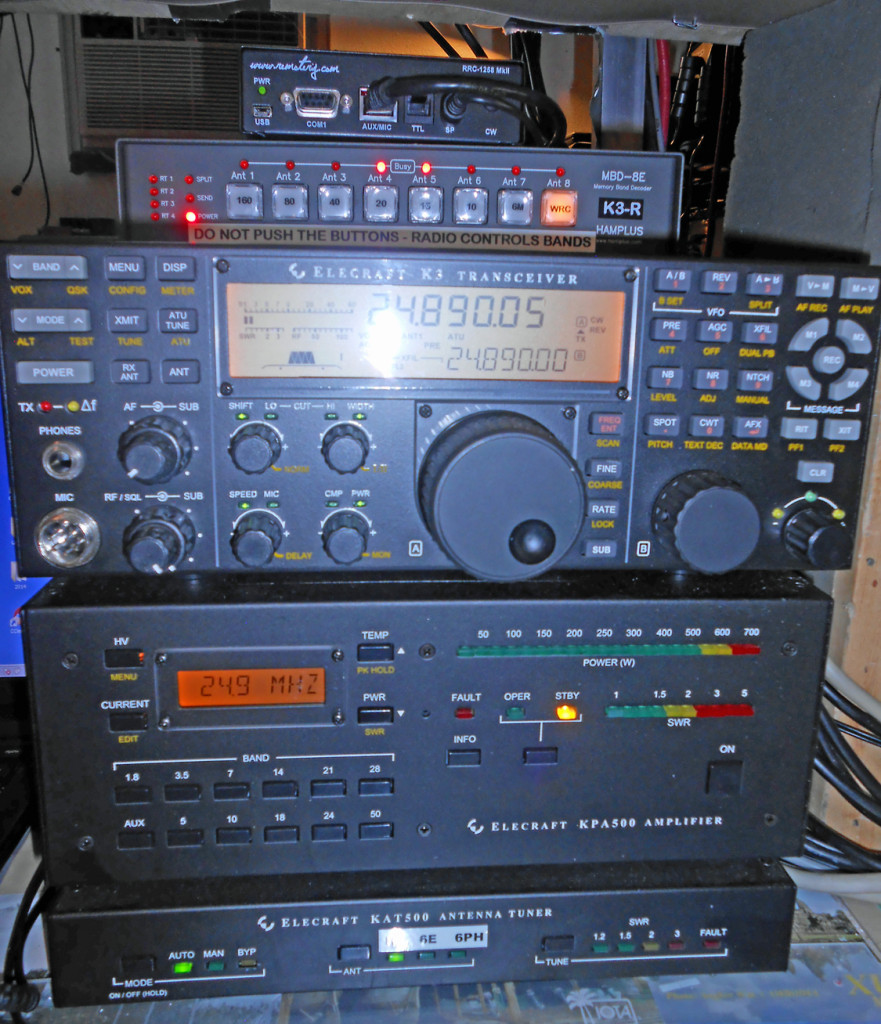 There are four options for access to the station:
Daily Operating
Operators will have access on a first-come first served basis. There is only one portal, so only one operator at a time. The antennas will all be available unless someone is operating W7RN. In that case, the band that is previously in use will lock out all antennas for that band, but the other bands will be available.
Multioperator
In multioperator contests, operators can sign up for specific operating slots on specific bands. Time slots can be one to four hours for each shift. Again, only one login at a time and time slots must be scheduled in advance. Besides the radio interface and the remote desktop for the antenna controls, you will need another remote desktop to share the logging program, or use programs such as WinTest remotely.
Single Op, 1 Radio
Operators may schedule specific contests in advance. They will have access to all antennas for the duration of the contest. They will keep their own log and use their own calls. Contest information will always be NV, DM09, Storey County.
Classes of Membership in CMS
In order to maintain and upgrade the station, remote operators will need to help subsidize the station with tax-deductible donations. The schedule of donations is as follows:
Sustaining Members
The core group of operators and workers who have continually supported CMS will have unlimited access to the remote system and will have priority in selecting contest slots. See the current list below.
Sustaining Members may be added with a one-time minimum donation of $5,000.00 and the approval of a majority of the existing sustaining members.
Members
Those who will use the station for daily operating will be asked to make an annual minimum donation of $400.00 to CMS. Membership requires the approval of a majority of the Sustaining Members.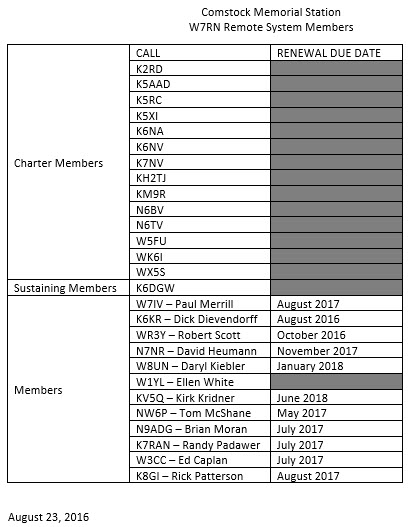 Links
Team Viewer – https://www.teamviewer.com/en/index.aspx?
Elecraft- http://www.elecraft.com/manual/K3%20Remote%20Owner's%20Manual%20%20Rev%20D.pdf
RemoteRig – http://www.remoterig.com/wp/?page_id=995
TAX DEDUCTIBLE DONATIONS CAN BE MADE VIA CHECK OR VIA PAYPAL. DONATION RECEIPTS WILL BE EMAILED FOR EACH DONATION. EQUIPMENT DONATIONS WILL BE PRICED AT FAIR MARKET VALUE
Checks to:
Comstock Memorial Station
370 Panamint Rd
Reno NV 89521
Paypal: Admin@W7RN.com