Background
W7RN, The Comstock Memorial Station, has evolved over the last 22  years into an very competitive venue for stateside and DX contests. The original goal was to host multi-two DX contests and optimize competitiveness from the West Coast.  In the past, we had as many as three operating positions. Unfortunately, recruiting operators has become difficult because avid contesters find it difficult to make the time to travel to Virginia City, NV for a long weekend and there are very few avid contesters in the region that are available for multiops.
We have hosted W1AW/7 three times and have had as many as 40 operators during the ARRL Centennial Celebration. We are no longer able to deal with the logistics of that many people on site and do not have  room to house a multiop crew.
We have a cadre of a single ops who make the commute from NorCal once or twice a year. N6TV for SS CW, WX5S for SS Phone and WK6I for the major RTTY contests. They are regularly top 5 contenders using the SO3R main station.
Over the last four years we have installed two remote hosts. Our objective is to help pioneer Hybrid Contesting. Also, we are looking for others to operate Sprints, NAQP's and other shorter contests remotely. We have not explored how to configure for SO2R, but it should be possible.
Hybrid Contesting
We believe the future of mult-op contesting is going to be a combination of on-site operators and others accessing the two remote hosts. That means that three stations can be on the air at any given time, making Multi-Single or Multi-Two extremely competitive without the need for travel or long time commitments.
We have experimented with hybrid contesting in several contests over the last year. Unfortunately, of the 8 members of the W7RN Remote, none are experienced contesters and the results have been less than optimal. The biggest problem is that the operators used different logging programs and it was a nightmare merging the logs after the contest. Also, the remote volunteers would each only have a single band because they could not share their logs. The 2019 IARU was the most successful because we were "run-only" operating, no search and pounce.
There is also a challenge to create complex operating schedules. We have also not found a viable chat room to communicate among the operators.

Phase II
WX5S has taken on the task of making the N1MM Logger remote capability viable at W7RN. We used the December RAC to test the system for viability. K5RC operated the main station and WX5S operated remotely from his apartment in NorCal. The internet logging worked well. N1MM had some oddities with serial numbers, but the first foray into hybrid contesting for us was a success.
We are now putting together a user's guide for others to join in remote logging.
The remote hosts consist of two K3's and two KPA-1500's.
The Antenna Control Computer is accessible at the main operating position and by the remotes through Team Viewer. The switching and rotator control is Green Heron. The KPA 1500 controls are also present as well as displays of the HamPlus switching status.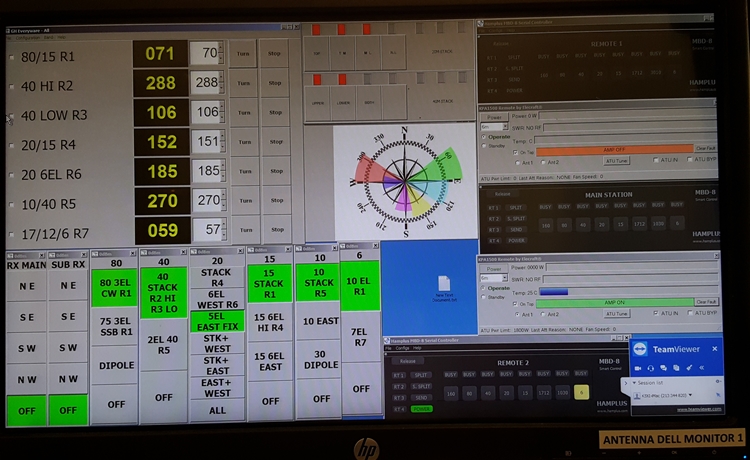 A complete list of the equipment and antennas can be found on the W7RN page on www.qrz.com .
This photo is KH2TJ operating the main station during W1AW/7 in IARU 2019 with both remotes active in the background.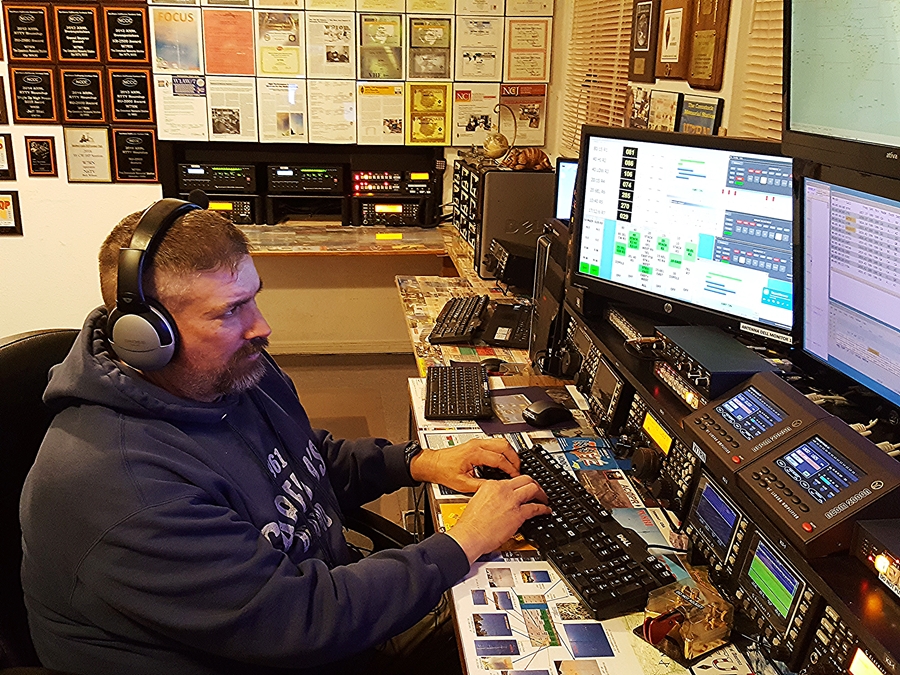 The Challenge
There are an ever growing number of remote hosts and remote operators. The Comstock Memorial Station would like to help pioneer a standard for hybrid contesting. We are soliciting experienced contesters to join in on selected Multi-Single or Multi two contests to test the viability of hybrid contesting.
We are recruiting experienced and motivated operators who want to be part of the team of developers and operators. The requirements are:
The time, energy and talent to be part of the development team led by WX5S
Compatibility with the team
An Electraft and RemoteRig station with reliable internet access

Preferably, two computers or two screens for the N1MM Logger and the antenna controls

Proficiency in remote operating and with N1MM logger
Help commission a viable chat room for continual contact among the operators
The time and willingness to participate in predetermined operating slots that are based on your preferences and time availability.
Remote Contesting
For those who are passionate about NAQP's, Sprints and other shorter contests, it is possible to operate these contests remotely. An operator with two Elecraft/RemoteRig stations can explore how to configure for SO2R.
The Comstock Memorial Station is a 501c3 not for profit. Full access remote users are by invitation only. Each makes tax deductible contributions for the maintenance funds. Any new equipment or antennas desired by the operators are acquired and installed by special assessments. We would encourage tax deductible donations for operators who want to be regular users.
Call to Action
If you are interested in becoming part of this project, please contact K5RC at tom@k5rc.com or at 775-847-7929.
Our first planned serious Multi-Two is in ARRL DX CW 2020.
The Antenna Farm